---
Evaluating your training programs is paramount for training success, but this stage of development is often overlooked or completed as an afterthought by most practitioners. During The Art of Evaluation, we will discuss the powerful impact that evaluation has not only on training programs, but in propelling teams forward in achieving organizational goals. In this informative four part series, we will:
Discuss the revolutionary approach in thinking about evaluation throughout the ADDIE model
Examine case studies illustrating how evaluating training data relates to performance
Converse with experts from top government and non-profit agencies to uncover common evaluation challenges and how to overcome them
Share powerful evaluation tips and resources that can be applied to your organizations efforts
Join us from August 10th – 24th to discuss and learn The Art of Evaluation with this series of events!
For more information about the sessions and speakers, check out the full event site.
---
Content Curator: Eugene de Ribeaux
Access Roundtable sessions
IMPORTANT: Use Chrome, Firefox or Safari to access.
Live video does not function on Internet Explorer or Edge.
Go to the Virtual Event Portal
Enter your Email Address
Enter your Password
(Use the "RESET PASSWORD" if lost or forgotten)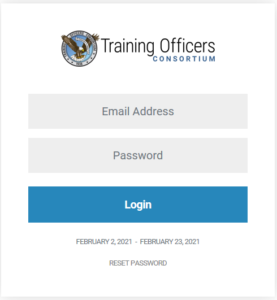 Registration Information: there's still time!
PAYMENT OPTIONS
Offline Registration: To register by check, PO, or SF-182, submit registration payment to:
Training Officers Consortium
7403 Venice Street
Falls Church, VA 22043
Offline Registration Form [fillable PDF]
Roundtable Sample SF-182 [fillable PDF]
---
This program covers topics in the Leadership Development track.
Executive Core Qualifications (ECQs) covered in this session: Leading Change (External Awareness, Flexibility, Strategic Thinking); Building Coalitions (Influencing/Negotiating, Partnering); and Leading People (Developing Others, Team Building).